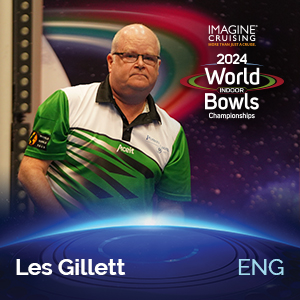 Les 'Razor' Gillett is no stranger to the World Bowls Top 16 as he has been in before and slid out in 2010 to No. 19. Determined to get back into the Top 16 Les Gillett entered the PBA Qualifiers and powered his way through all the qualifiers to win a space to the 2014-15 Scottish International Open & International Open. With a quarter final place in the 2015 Scottish International Open Les Gillett earned the right to be right back in the fray and his semi-final berth in the 2017 World Indoor Open Singles Championship gave him enough points to rise to No. 11.
After the end of season points reshuffle he had gained enough not to drop too far as he slid one place to Number 12 for the start of the 2018-19 season.
Les Gillett will be playing with his renowned steely determination to climb the ladder once again and is not a player any of the Top 16 would like to be drawn against as they know a really tough game would await.
Date of Birth
17 November 1970
Occupation
Estimator/Buyer
Marital Status/Children
Married, Children – Mille, Eliza, Jessica
Favourite Food
Roast Dinner
Hobbies
Camping, Walking and Dogs