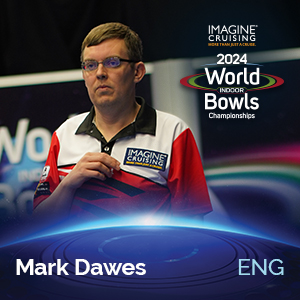 Mark Dawes comes from a bowls hybrid background in that he is also a rated Crown Green player in the Blackpool Area but is definitely no slouch on the rinks in the Indoor Arena.
Mark deservedly won a 'Tour Card' entry into the 2014-15 season of World Bowls Tour events and went on to to gain a quarter final place in both the Scottish and International Opens which earned him enough points to topple out newcomer, Wayne Hogg to 17th place and gained Mark Dawes the 16th placing in last seasons WBT Ranking List. Going into the 2016-17 season Mark Dawes had gained a further quarter final appearance which kept him in the WBT Rankings for the 2017-18 season and rising to No. 12.
Winning the 2018 World Indoor Singles Title propelled Mark Dawes to number 9 for the coming 2018-19 season and he has earned a deserved respect from the players on the Tour as a 'one to watch'.
Date of Birth
07 January 1983
Occupation
Accounting Assistant
Marital Status/Children
Married with 2 children, Thomas and Freddie
Indoor Club
Blackpool Newton Hall
Hobbies
Crown Green Bowler, 6-a-side football and running
Other Interests
Spending time with family