The Just 2021 World Indoor Bowls Championships
This year's Championships has drawn to a close and what a competition it was! Congratulations to all our winners: Mark Dawes, World Open Singles Champion, Laura Daniels, Ladies World Matchplay Champion, Mark Dawes & Jamie Chestney, World Open Pairs Champions and Julie Forrest & Stewart Anderson, World Mixed Pairs Champions. We'd also like to say a huge thank you to all the players, officials, our title sponsor Just, and all the Potters Resort team who made this event a huge success.
Looking ahead to the 2022 World Indoor Bowls Championships
We can't wait to welcome spectators for the 2022 edition of the World Indoor Bowls Championships and it'd be great see you there. Many of the breaks have already sold out, so if you want to secure your spot, head over to our 2022 World Bowls Breaks now.
View 2022 World Bowls Breaks
Just 2021 World Indoor Bowls Championships
The highlight of the indoor bowls calendar, we will be hosting bowls' biggest tournament for the 23rd year running in our impressive International Arena.
The very best players from around the world, together with up-and-coming bowls stars, will descend on Norfolk for 17 non-stop days of bowls.
About Potters Resort
Potters isn't just for World Bowls - find out more about the award-winning resort and why the Potters experience is one not to be missed.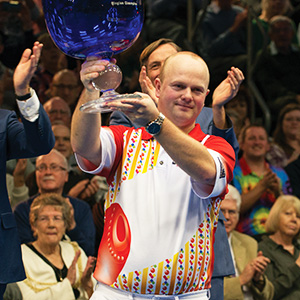 New to Bowls?
Discover more about the sport of bowls, the different formats and find why you should try it at Potters Resort.
Discover More