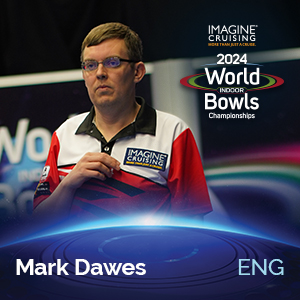 Mark Dawes comes from a hybrid bowls background in that, as well as having enjoyed great title success both indoors and out, and being one of the World Bowls Tour's most dangerous draw bowlers, he's also a renowned Crown Green bowler in his native Lancashire.
After a couple of early-rounds exits in 2016 and 2017, he made himself known to a wider bowls audience in 2018 when he played his way to a surprise World Indoor Singles victory thanks to a consistently high level of performance that his opponents simply couldn't contain.
It completed a superb year on the portable rink as he also claimed the 2018 World Indoor Pairs title in partnership with England team-mate Jamie Chestney.
World Championship Titles
Singles:
Pairs:
Date of Birth
7th January 1983
Occupation
Accounting Assistant
Indoor Club
Blackpool Newton Hall
Hobbies
Crown Green, Running
Highest World Rank
1 (2021)